The correct answer is Trichophyton rubrum. The tiny microconidia are lined up in a "birds on the fence" arrangement along the hyphal strand transversing the field of view (yellow arrows). Two pencil-shaped, smooth walled macroconidia are also seen in the lower left field of view (red arrows).
Trichophyton verrucosum may produce microconidia in small quantities. However, they are irregularly arranged with little tendency to line up along the hyphae. Antler hyphae and string bean macroconidia are characteristic of this species.
One of the key characteristics in the identification of Epidermophyton floccosum is the inability of this dermatophyte to produce microconidia. Two to four-celled, club-shaped macroconidia are produced, usually in clusters of two or three.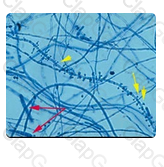 The profusion of tiny microconidia lining up along the hyphae in this photomicrograph is characteristic of which of the following organisms?