Scenario 3:
After resolving numerous connectivity issues throughout the various branch sites, connectivity between applications and users is finally present. The network administrator is informed that during certain tests, applications are not performing as they are expected to. Users report that call quality has not fully improved and that some of their calls either drop or have poor voice quality where the conversation is breaking up. Other users are noticing that file transfers are slower than expect. A group of users from a few sites have reported slowness in accessing internal and external applications.
Users at multiple branches complain that a highly performant SQL Database cluster residing at the New York Data Center is not responding to database queries or inserts as expected. It is affecting the order management site. A network administrator investigates and finds that traffic from the branches are going through Seattle to reach the SQL Cluster in New York. The design for this SD-WAN network does not call for routing security.
The SQL Cluster is reachable through either Data Center, but for performance reasons, must flow through the New York DC. The network administrator has verified that the routes are not present in the OFC and the BGP neighborship is down in Network Services.
Refer to the Exhibit(s).
Exhibit.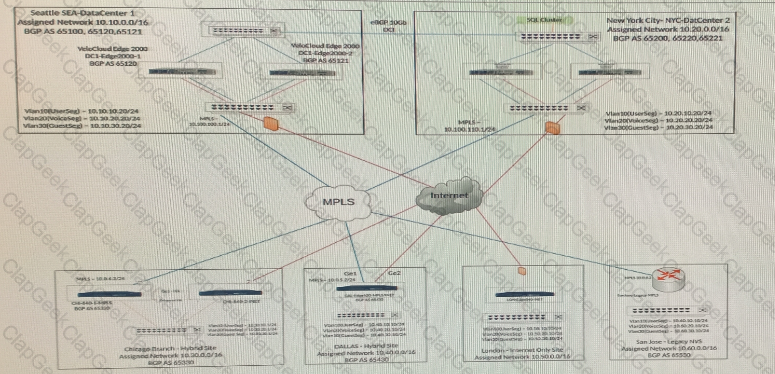 What should the administrator verify?